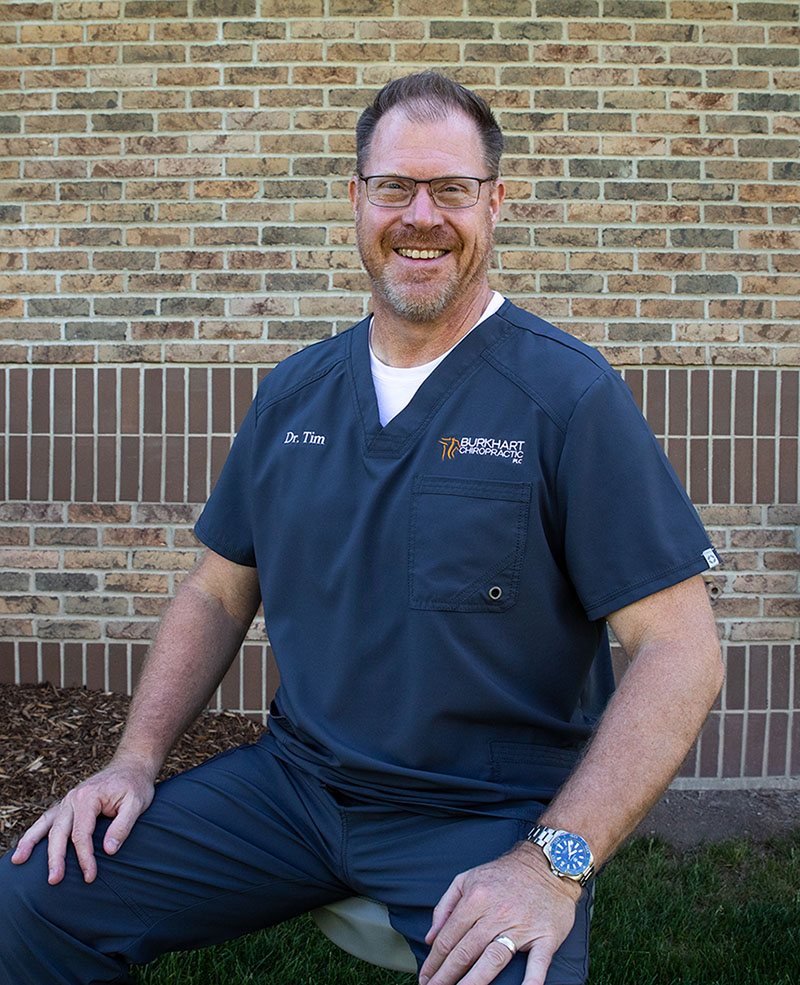 Dr. Timothy Burkhart
Dr. Timothy J. Burkhart is the founder of Burkhart Chiropractic, PLC, which is a successful, state of the art practice in Grand Rapids, MI. He has been in practice since 1984 helping patients achieve and maintain optimal health through innovative healthcare solutions. Dr. Burkhart seeks to provide exceptional, results-based care to each patient through the use of cutting-edge technology, advanced therapies, nutrition, and home care exercises.
Dr. Burkhart is a catalyst for the development of the chiropractic profession. During his career, he has continued to expand the excellence of services offered to patients to help them achieve optimal health. In 2008, Dr. Burkhart began offering non-surgical spinal decompression therapy to patients suffering from neck and low back pain. Dr. Burkhart has been able to help many patients who have tried traditional approaches to treatment for their pain but were unsuccessful until they experienced spinal decompression treatment.
In 2011, Dr. Burkhart began working with HillDT Solutions, LLC, the retailer for the Hill DT spinal decompression table used at the offices of Burkhart Chiropractic, PLC. Due to his success with spinal decompression and the Hill DT table, he is often invited to share his knowledge and expertise with other health care providers by providing continuing education and certification programs on the topics of spinal decompression and advanced chiropractic practice.
Dr. Burkhart is passionate about collaborating with other health care professionals and has previously served on the neuroscience team at Metro Hospital, now the University of Michigan Hospital, in Grand Rapids. Through his role as the Clinical Director for HillDT Solutions, LLC, Dr. Burkhart has contributed at both national and international lectures and symposiums, including Dubai, Singapore, Australia, and Germany. His passion includes educating chiropractors, neurosurgeons, orthopedists, physical therapists, and nurses on the latest advances in non-surgical approaches in spinal healing.
Dr. Burkhart was excited to welcome his son, Dr. Ryan Burkhart, to the practice of Burkhart Chiropractic, PLC in 2016. The father-son duo has been team practicing since this time and enjoys the expertise that each doctor brings to patient care. Together, they have sought to offer better and longer-lasting outcomes with the addition of advanced therapies, including laser and acoustic compression therapy. In addition to chiropractic adjustments and spinal decompression, these tools are useful to treat acute problems, manage chronic issues, and prevent injury by keeping the body in the best condition possible.
Dr. Burkhart has also published several articles. He authored an article on injury prevention in the Parsac Journal in 1998.  He has also contributed to several articles focused on results-based spinal decompression in The Industry Compendium of Chiropractic Research in June, 2011 and in Chiropractic Economics in August, 2013 with follow-up articles as recently as 2016.
Education:
1984 – Doctor of Chiropractic degree, Sherman College of Chiropractic, Spartanburg, SC
Licensure: State of Michigan
Certifications:
1986 – Certified in Pierce Results System of analysis and treatment
1991 – Certified in Videoflouroscopy from Palmer College of Chiropractic
1995 – Certified Injury Prevention Consultant for Backsafe from Future Industrial Technologies
2011 – Certified trainer for HillDT Solutions, LLC in non-surgical spinal decompression
2013 – Board Certified in Integrative Medicine, BCIM, from the American Association of Integrative Medicine.
2014 – Diplomate of the College of Manipulative & Body-Based Practices, DAAIM
Memberships & Associations:
Member of Michigan Association of Chiropractors
Member of American Chiropractic Association
Member of Health Advisory Board for Davenport University
Member of American Association of Integrative Medicine