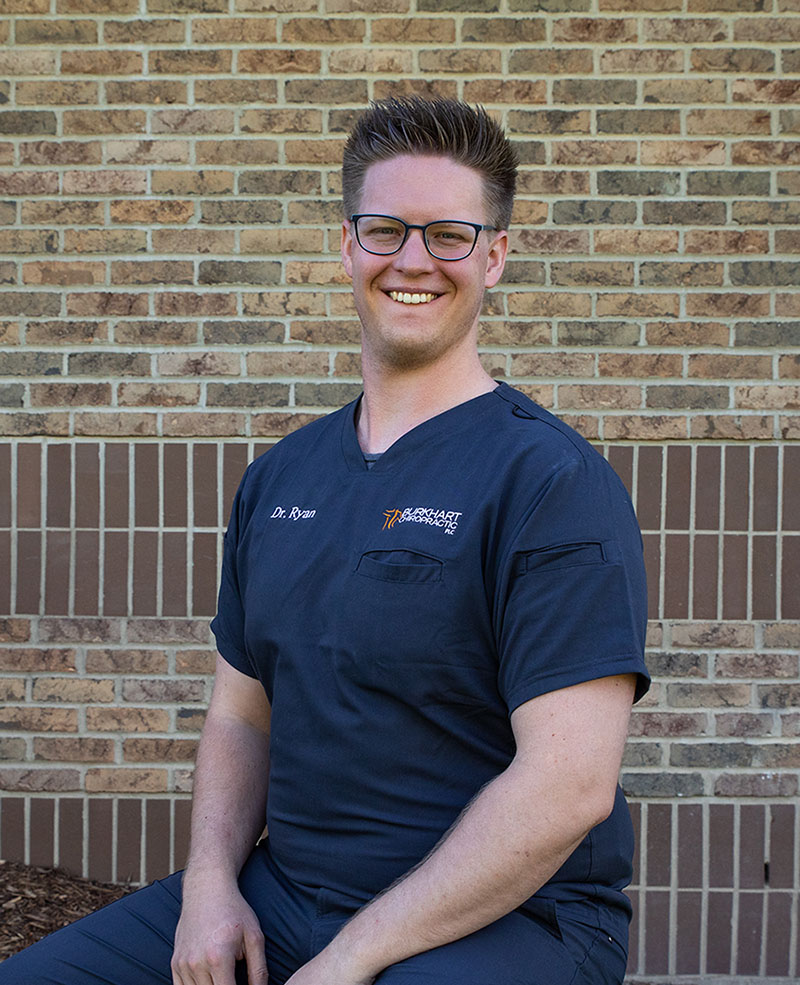 Dr. Ryan Burkhart
Dr. Ryan Burkhart joined the practice of Burkhart Chiropractic, PLC in Grand Rapids, MI upon completion of his Doctorate of Chiropractic in April, 2016. Dr. Ryan graduated Summa Cum Laude from Sherman College of Chiropractic in Spartanburg, SC, and has also completed additional training in functional and kinetic treatment with rehabilitation to hone his skills in rehab, and to study more about soft tissue healing.
Dr. Ryan is committed to delivering innovative healthcare solutions and maximizing the patient's quality of life through chiropractic care. Upon joining Burkhart Chiropractic, PLC, he began integrating the latest technologies and rehabilitation protocols into the practice. During his capstone internship, Dr. Ryan developed chiropractic treatment protocols for acoustic compression therapy, which uses focused sound waves to break down scar tissue or adhesions.
Dr. Ryan also collaborated with the other doctors of Burkhart Chiropractic, PLC to incorporate class IV laser therapy treatment protocols. Laser Therapy has proven to be effective at reducing pain and healing time of soft tissue injuries. Together, these therapies have allowed the Burkhart team to attain better and quicker outcomes for many conditions, such as tendonitis, sprain/strain injuries, and arthritis.
Dr. Ryan's expertise includes treating musculoskeletal conditions, and spinal sports injuries, and bulging or herniated discs. He treats children and adults of all ages and is especially passionate about patient education. His professional mandate is to educate his patients on the importance and benefits of health and wellness, including chiropractic care and spinal restoration. He has taught at health fairs, continuing education seminars, and school classrooms to impact the local community for better health.
Dr. Ryan is also published in Chiropractic Economics. He co-authored an article discussing the benefits of advanced therapies with Dr. Timothy Burkhart in 2016.
Education:
Calvin College, Grand Rapids, Michigan
2015 – Bachelors of Science degree, Excelsior College, Albany, New York
2016 – Doctor of Chiropractic degree, Sherman College of Chiropractic, Spartanburg, South Carolina
Licensure: State of Michigan
Certification:
2015 – Trained in Functional and Kinetic Treatment with Rehab (FAKTR)
2016 – Certified in Non-Surgical Spinal Decompression Treatment
2017 – Designated laser safety officer for Burkhart Chiropractic, PLC.
Memberships & Associations:
Member of the Michigan Association of Chiropractors